Excitement brews at DJ Car-Guy Productions. Stay tuned here for more announcements.
5-21-20: Cruise Nights will open in June with governmental guidelines. We will have weekly cruise nights on Mondays and Thursdays at the Rocky Point Clam Shack. There will be a new cruise night in Cranston at the Countryside Creamery on Thursdays (see flyer). The Oak Harbor Cruise on Mondays may open in August. There are two other cruises that will be announced soon. These may happen in other phases of the governors role out plan.
5-18-2020: The Cruise Night at Oak Harbor Mall on Mondays has been postponed until Monday, August 3, 2020. This postponement is based on information from the Town of Exeter. Please stay tuned for more information on the Exeter Cruise Night as time comes closer.
5-6-2020: Outlaw Run Safe Distance Cavalcade of Classic Cars and Trucks to benefit Between The Cracks to Feed Needy Burriville Families & Pay Utility Bills has been rescheduled due to poor weather conditions on Saturday May 9 and Sunday May 10, to Saturday May 23 with a rain date of May 24. Same Time 10 am at Broncos Plaza.
5-4-2020: POSTPONEMENTS AND CANCELLATIONS BECAUSE OF THE CORONA VIRUS PANDEMIC WILL BE ANNOUNCED AS THEY COME IN. Thus far, all of the DJ Car-Guy May Car Shows are postponed to 2021. There are some June, July, August shows that are marked on the calendar page that have been planned for 2021. Postponements have been coming in daily and will be marked on the calendar page and flyer page.. Most of our clients are asking for dates for 2021. We will announce all changes as they come in. It looks like we are not done postponing shows for this season. Stay tuned. Rich
4-24-2020: The flyer page is in process. We have included many new flyers. The remaining flyers are being worked on by our clients. As soon as they are submitted to us, we will post them. The flyers will give you more information on the shows. All cruise nights have been postponed until June. We are hoping that Governor Raimondo will permit us to have the shows and cruises as planned. Our concern will be that everyone stays healthy. Many of us are in our 60's and 70's; therefore, we must be extra careful. Please wear your masks and gloves and keep to the social distancing regulations. Be Safe My Friends. Rich
4-21-2020: The Coronavirus is really slowing down the car season. Many of us have worries about just when the car season will begin. All of the April and May Car Shows and Cruises have been cancelled or postponed. At DJ Car-Guy Productions, we are optimistically waiting announcements from the Governor of RI and the President concerning June-October. We will keep you informed here and on Facebook. For now, we are planning to make announcements of any cancellations or postponements about a week before the event is scheduled. This Pandemic is dangerous with many deaths and slow recovery; therefore, we are looking at the data provided and are being very cautious.
DISTANCED FUN: CAR SHOW MAY 9 WILL RAISE FUNDS FOR BETWEEN THE CRACKS
By Sandy Seoane -April 20, 20200209Share on Facebook Tweet on Twitter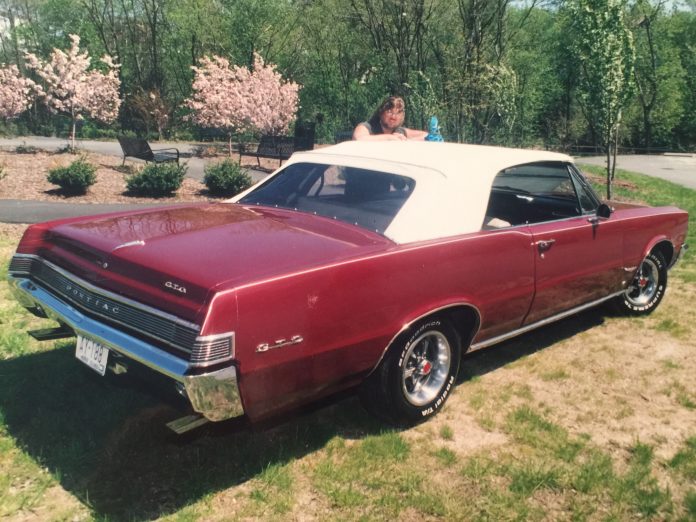 BURRILLVILLE – It's a different kind of car show, with the dual purpose of raising people's spirits, and raising funds for a worthy cause.
Burrillville resident Jim Weicherding has organized a classic car and truck show with a twist: the vehicles will cruise through Burrillville following social distancing rules in place to curb the spread of COVID 19.

The event, dubbed "Outlaw Run, Cruisin' For Charity Cavalcade," will take place on Saturday, May 9 starting at 10 a.m. Participants will start the run at Broncos Plaza on Route 102, staying inside their vehicles, and the procession will cruise through the streets of Burrillville. Cloth face coverings, also used to slow potential spread of the virus, will be "old western style."
The vehicles will disband at the end of the cavalcade, and head safely home, with no face-to-face interaction.
Funds raised will benefit Between the Cracks, a Burrillville-based organization that aims to help families in the community who need help, but don't qualify for government assistance.
Weicherding said he came up with the idea because he was concerned about groups losing money at a time when the help is most needed.
"Classic car and truck shows are being cancelled every week due to social distancing and hurting their charity causes, as well as lowering automotive enthusiasts' spirits," Weicherding said.
A town resident and public safety advocate, Weicherding said that in a normal year, he typically attends more than 100 charity car shows and cruise nights across New England and New York state, to raise awareness about the importance of things such as buckling up.
And he said the event is just the start of his plan to get the new type of car show back on the road.
"We (will) start hosting more… in other communities soon to help those charities and families in need as well," Weicherding said.
Distancing rules will limit Weicherding, and his participants, to the state of Rhode Island, since anyone traveling out-of-state right now is ordered to self-quarantine for 14 days. Vehicles must be registered in Rhode Island to participate in the upcoming Outlaw Run.
More than 50 classic car and truck owners have already signed on to participate and the organizer said he expects many more to sign on once the word gets out. The route through Burrillville is not yet designated but will be published on NRI NOW once it is laid out.
Weicherding said he expects the event to become an annual fundraiser for Between The Cracks.
"I am organizing for the remainder of this season until the end of October, and every year after this one," Weicherding said.
To register to take part, just email a photo of your classic vehicle to Weicherding at jwpisces14@aol.com, with a note about who will be participating.
"It's for a good cause and should be a lot of fun for everyone involved," Weicherding said. "Stay safe and stay healthy."
Seoanehttp://nrinow.newsSandy Seoane is the founder, publisher, and editor of Northern Rhode Island News On the Web. A SUNY Albany graduate with more than a decade of experience covering news in the Blackstone Valley, Seoane previously worked for The Valley Breeze and Woonsocket Patch.




4-18-2020: My friend Jimmy Weicherding sent me this message and asked me to share it here. This seems like a way to get out with our cars. It may be a good idea. I hope to see you there:
Hi buddy, I'm coordinating a venue next month called, "OUTLAW RUN" 2020. I have reached out to numerous Classic Car & Truck Owners in the state of Rhode Island about attending an "OUTLAW RUN" Classic Car & Truck Parade through the community of Burrillville, RI. You would not believe the response buddy. It's huge!!! You should be there too. Simple requirements: Must Be a RI Registered Vehicle. Must stay inside your Vehicle. Must Wear an Old School Cowboy Cloth Face Covering just like the old west outlaws used to wear when holding up banks, stagecoaches and trains. Date is Saturday, May 9th, 2020, 10am meet at Broncos Plaza on Route 102 and follow lead Vehicle through the town on Burrillville, RI. ending in Glocester, RI. where everyone can head back home from there. Rain Date is Sunday, May, 10th. Have them Email jwpisces14@aol.com with vehicle photo and name of participants. Subject box: OUTLAW RUN, 2020, Parade. Classic Cars & Trucks will Parade through the Burrillville Community to help raise everybody's spirits while they enjoy these cool classic cars and trucks as they pass by their homes. I'm doing this because we cannot congregate at Classic Car Shows & Cruise Nights so we are parading our Classic Rides Safely While following the Governor's Social Distancing Order. I want everybody to stay Safe & Healthy but still enjoy their automotive passion and lifestyle in a safe venue. Everyone is very excited about my idea and they want to join in the parade. Please post this on your website. I'm sure everyone will love to see something positive happening right now during all of these negative COVID-19 crisis cancellations related to our Classic Car & Truck Events. Thanks, ETCH



4-12-2020; Happy Easter to all our Friends and Family. This was one of the most quiet Easter Sundays. Most of us are practicing social distancing. This may have some effect on our car season in the early months. DJ Car-Guy is proceeding with the hope that things will get better soon. Please check out the flyer page which will have new postings every day. All shows are listed on the calendar page. Thus far, we have been able to re-schedule shows from April and May.
4-8-2020: As a result of the Coronavirus Pandemic, we have decided to cancel events for April and May, 2020. For now, we will resume our schedule in June for all Cruise Nights and Car Show if the health climate permits. In the next few days, we will update the "Calendar Page" and the "Flyer Page". Only one show has been totally canceled and two others will be booked later in the fall. We wish all of you the best of health. Please be careful, we do not want to lose anyone. Social Distancing is now part of our vocabulary.
3-23-2020: We have decided to make some changes to the calendar page and some flyers do to the coronavirus. The car shows, cruises and SWAP Meet have been moved to April. The show in Sharon, Ma. at Whitney Place is cancelled for now but may be scheduled in the Falll. Be safe, work on your cars and motorcycles. Check us out on Facebook.
3-18-2020: The coronavirus is very serious and will continue to effect much of what we do with our friends and family. Please take this seriously and follow the rules of the state and federal government. DJ Car-Guy Productions will monitor developments in the next few days and determine weather to re-schedule the events of April and possibly May. The major factor will be to insure the health, safety and well-being of our followers and clients. Please see the "Announcement Page" on www.djcaruy.com for updates. In the meantime, we are planning to follow the advice of the President and Governor and the Center for Decease Control. Please keep you and yours safe during this difficult time.
3-14-2020: Much has changed in the last few days for all. We are now faced with threats from the caronavirus outbreak. We are seeing cancellations in the sports world and more. As a result of these panoramic changes, we are all affected. In relation to the car hobby, we are already seeing car shows and cruises being cancelled in some states. In Boston, the World of Wheels has been canceled and some are very disappointed with the latter. DJ Car-Guy Productions is wishing all his friends and their families, followers, colleagues, and clients to be safe and take the appropriate precautions to avoid catching and spreading the caronavirus. At this time, we are not planning to cancel any of the scheduled shows or cruise nights. We will update you of any changes if they should arise on any of our events.
3-11-2020: We have posted some new flyers on the web page. More will be submitted in the next weeks. See Facebook for some of these postings. We are happy to announce that this season will be kicked off with an old fashioned SWAP meet. See the flyer on the web page. Be sure to ask Rick Roden about any questions that you may have, If you would like to pre-regester, Rick can assist you.
3/6/20: The first week of March has come in as a lamb with Spring-like weather. DJ Car-Guy Productions has been completing the calendar of car shows of the season We have some great ones coming up. Most of the calendar is completed and shows keep booking almost daily. We have 42 weekend car shows booked thus far and one SWAP meet. See the calendar attached which is frequently updated. Cruise nights are a work in progress. We have confirmed cruise nights in Exeter, Warwick, RI. Ashaway, RI, and others in process. Rich George and Rick Roden have been working on bookings and preparing equipment for coming show season. Rich George will be conducting a workshop for our DJ's to plan for the upcoming season. Flyers will be posted on this web page as they are submitted by our clients. Regards.
2/15/20: The car season is coming quickly. Our team at DJ Car-Guy Productions is working on even starting in April. We have several new shows and cruises that will me announced shortly. All of our previous shows have returned and will be bigger and better than ever. We are revising our sponsor list and considering new sponsors. Please call Rich at 401-575-6933 if you are interested or have suggestions. In the meantime, we will continue to book shows to give you more choices.
2-10-2020: Things are moving along nicely for the upcoming car season. We will have our weekly partners' meeting tomorrow. I have to report some new shows that have been added to the calendar. Please check out the calendar page. It is important for all to know that we may have more than one show scheduled for the same date. We double book only when the shows are not in the same vicinity or our clients choose the date.
2-4-2020: February is time for all of us to really get into our car winter projects. Since I have a new garage, I have been making the garage ready for some jobs to get my rides ready for showtime.Part of all this has been organizing and cleaning my tools. While all of the garage stuff is going on, I have been talking to DJ Car-Clients and choosing dates for shows and cruises. As of today, we a have 32 shows booked and at least 4 cruise nights. This brings us ahead of last season. I am happy to say that our stable of DJ's will assist DJ Car-Guy Productions in offering more shows in more locations. Also, it will give Rich George a chance to get out to promote the shows during the season. DJ Car-Guy Rich George will be the DJ at some of the larger events working with DJ Rick Rogen. If you would like a car show in a place that you think would work, call us at 401-575-6933. Enjoy your day and be safe.
1-31-2020: This is the last day in January, and I am happy to report that DJ Car-Guy Productions is alive and well. The new partnership is working out well. We have 20 Car Shows in place for the summer of 2020. We will continue working on bookings for the next few months with high hopes of once again having some of the best and biggest car events in the area. Please see the calendar page. Our clients are working on their flyers and as soon as we receive the hous flyers, they will bre posted. Take note of the R1 Karting Show. Lats year, we had over 350 cars there. This year it will be a super show with more trophy categories, larger trophies, bands, kid friendly event with bouncy houses, and more to be announced.
1-28-2020: Today will be a busy one for Rich George and Rick Roden. We are in the process of planning with some of our clients for upcoming car shows and cruises nights. Thus far there are 15 car shows with more confirmations coming in weekly. Please see the list the preliminary list on the calendar page. If you know of someone interested in a car show fundraiser or someone who would like to increase their business have them call DJ Car-Guy Productions. Like many of you, I am working on my cars over the winter. For my 1999 Vette, I began with taking the driver's seat out and sent it to be re-stitched and then installed it. For the 32 Deuce 3 Window Coupe, I removed the headers and painted them. I also bought new exhaust gaskets. I replaced the front matts in the Vette. Sometime in March, I will work with Rick Roden on preparing the DJ Car-Guy for the season by installing equipment etc.
1-22-20: Taking some time today to work on my toys. It is pretty cold out to talk to clients about the car season. Some things are in the works with the new partners. Look for the DJ Car-Guy Trailer this season. It will be busy! Check out the calendar as shows are posted. New page added "Today in Music" check back for postings there.
1-18-20: This has been a great week. We have been booking shows for the 2020 season. Please see the updated calendar page to see what has been booked thus far. We have been working on transitioning the business to the new partnership. Anyone who would like to have a car show should contact Rick Rogen (401-860-753-1493) Events Manager or Rich George (401-575-6933) Founder for more information.
1-6-2020: Today was the beginning of booking shows and cruises for 2020. We have confirmed some of our shows and cruise nights. Please check the calendar page for the early announcements. Stayed tuned for more confirmations in the next several months. The new DJ Car-Guy Productions Team will be expanding!
12-10-19: All communication concerning future shows, web page, and other should be directed to Rick Roden, Events Manager.
10-25-19: See calendar for VFW Show information. DJ Car-Guy Productions because it has been sold to a new partnership which includes: Chan Ping Hou, Haibo Liu, Richard R. Roden, Richard L. George. Chan Pin Hou and Haibo Liu own the Rocky Point Clam Shack. Rick Roden is an accomplished businessman and manager, and Rich George (DJ Car-Guy). There will be an additional partner (yet to be chosen). Rich Roden will hold the position of General Manager and oversee day-to-day operations Rich George will be involved in the transition as a consultant to Rick Roden.